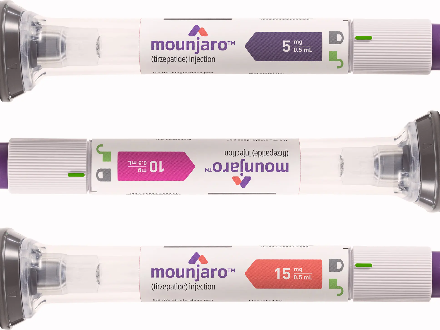 Mounjaro (Tirzepatide)
Brand | Requires Prescription
Refrigerated medication: additional processing and shipping fee may apply.
Tirzepatide is used along with diet and exercise to lower blood sugar levels in people with type 2 diabetes (a condition in which blood sugar is too high because the body does not produce or use insulin normally).
Qwark price promise
Qwark is committed to lowering your prescription prices. We will always recommend the best price we can find. If you find a lower price on an identical, in-stock product, tell us and we'll match it.
INJECTOR PEN 7.5/0.5 MG/ML
$1099
1 Select the form, strength, and count
2 Add to cart and checkout
3 Add your prescription or let Qwark handle the transfer
4 Track your order
Need help?
Our patient support team is available Monday through Friday 8AM - 6PM PST, and Saturday 9AM - 12PM PST.
About Mounjaro (Tirzepatide)
How to use
Tirzepatide comes as a solution (liquid) in a pre-filled pen to be injected subcutaneously (under the skin). It is usually given once a week with or without meals at any time of day. Follow the directions on your prescription label carefully, and ask your doctor or pharmacist to explain any part you do not understand. Use tirzepatide exactly as directed. Do not take more or less of it or take it more often than prescribed by your doctor. Your doctor will probably start you on a low dose of tirzepatide and gradually increase your dose, not more than once every 4 weeks. You may change the day of the week you inject tirzepatide as long as at least 3 days have passed between doses. You may administer insulin in the same area as tirzepatide but they should not be given right next to each other. Also, you should not mix tirzepatide and insulin in the same injection. Tirzepatide controls type 2 diabetes but does not cure it. It may take 4 weeks or longer before you feel the full benefit of tirzepatide. Continue to take tirzepatide even if you feel well. Do not stop taking tirzepatide without talking to your doctor. Tirzepatide can be injected in the abdomen, thigh or upper arm. Rotate injection sites with each dose.
Why prescribed
Tirzepatide is used along with diet and exercise to lower blood sugar levels in people with type 2 diabetes (condition in which blood sugar is too high because the body does not produce or use insulin normally). Tirzepatide is in a class of medications called glucose-dependent insulinotropic polypeptide (GIP) receptor and glucagon-like peptide-1 (GLP-1) receptor agonists. It works by increasing insulin available and decreasing glucagon (a hormone that controls the amount of glucose made by the liver) available in the body.
Other uses
This medication may be prescribed for other uses; ask your doctor or pharmacist for more information.
Precautions to follow
Before taking tirzepatide, tell your doctor and pharmacist if you are allergic to tirzepatide, any other medications, or any of the ingredients in tirzepatide injection. Ask your pharmacist or check the Medication Guide for a list of the ingredients. tell your doctor and pharmacist what prescription and nonprescription medications, vitamins, nutritional supplements, and herbal products you are taking or plan to take. Your doctor may need to change the doses of your medications or monitor you carefully for side effects. tell your doctor if you have or have ever had pancreas or kidney disease, stomach problems such as difficulty digesting food, or history of diabetic retinopathy. tell your doctor if you are pregnant, plan to become pregnant, or are breast-feeding. If you become pregnant while taking tirzepatide, call your doctor. Birth control pills may not work as well while receiving tirzepatide. Your doctor may suggest you use another type of birth control for 4 weeks after starting tirzepatide and for 4 weeks after each dose change. Taking tirzepatide with other medicines to treat diabetes like insulin or sulfonylureas may increase your risk of hypoglycemia. Talk to your doctor and pharmacist about low blood sugar and how to manage it.
Special dietary restrictions
Unless your doctor tells you otherwise, continue your normal diet.
If forget a dose
Take the missed dose as soon as you remember it within 4 days after the missed dose. However, if more than 4 days have passed, skip the missed dose and continue your regular dosing schedule. Do not inject two doses within 3 days of each other.
Side effects
Tirzepatide may cause side effects. Tell your doctor if any of these symptoms are severe or do not go away: nausea diarrhea decreased appetite vomiting constipation upset stomach Some side effects can be serious. If you experience any of these symptoms or those listed in the IMPORTANT WARNING section, stop taking tirzepatide and call your doctor immediately: stomach pain that will not go away (and may radiate to the back) with or without vomiting Tirzepatide may cause hypoglycemia (low blood sugar). Signs and symptoms of low blood sugar may include dizziness or lightheadedness, blurred vision, anxiety, irritability or mood changes, sweating, slurred speech, hunger, confusion or drowsiness, shakiness, weakness, headache, fast heart rate and feeling jittery. Tirzepatide may cause other side effects. Call your doctor if you have any unusual problems while taking this medication. If you experience a serious side effect, you or your doctor may send a report to the Food and Drug Administration's (FDA) MedWatch Adverse Event Reporting program online (http://www.fda.gov/Safety/MedWatch) or by phone (1-800-332-1088).
Storage and disposal
Tirzepatide should be stored in the refrigerator (between 36 to 46 degrees Fahrenheit). Keep tirzepatide in original carton until use to protect from light. Single-dose pens can be stored at room temperature for 21 days, if needed. Store your medication only as directed. Make sure you understand how to store your medication properly. It is important to keep all medication out of sight and reach of children as many containers (such as weekly pill minders and those for eye drops, creams, patches, and inhalers) are not child-resistant and young children can open them easily. To protect young children from poisoning, always lock safety caps and immediately place the medication in a safe location – one that is up and away and out of their sight and reach. http://www.upandaway.org Unneeded medications should be disposed of in special ways to ensure that pets, children, and other people cannot consume them. However, you should not flush this medication down the toilet. Instead, the best way to dispose of your medication is through a medicine take-back program. Talk to your pharmacist or contact your local garbage/recycling department to learn about take-back programs in your community. See the FDA's Safe Disposal of Medicines website (http://goo.gl/c4Rm4p) for more information if you do not have access to a take-back program.
Emergency case
In case of overdose, call the poison control helpline at 1-800-222-1222. Information is also available online at https://www.poisonhelp.org/help. If the victim has collapsed, had a seizure, has trouble breathing, or can't be awakened, immediately call emergency services at 911.
Other information
Keep all appointments with your doctor. Do not let anyone else take your medication. Ask your pharmacist any questions you have about refilling your prescription. It is important for you to keep a written list of all of the prescription and nonprescription (over-the-counter) medicines you are taking, as well as any products such as vitamins, minerals, or other dietary supplements. You should bring this list with you each time you visit a doctor or if you are admitted to a hospital. It is also important information to carry with you in case of emergencies.