Welcome to Qwark Care
Conditions we treat
Male Pattern Baldness
Erectile Dysfunction
Birth Control
Acid Reflux (coming soon)
Sore Throat
Acne
Vaginal Yeast Infection (coming soon)
Motion Sickness (coming soon)
Cold, Sinus Infection, or Influenza (Flu)
Malaria Prevention (coming soon)
General Consultation
General Digestive Issues (coming soon)
Allergies
General Skin Conditions
Earache - Adult
Acute Cough
Medication Refill
Female UTI (coming soon)
STD (coming soon)
Eye Conditions
If you don't see your condition listed above, please select "General Consultation".
How it works
1

Access the 'Get Started' link
2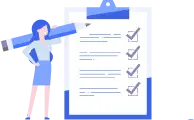 Fill out a brief questionnaire about your symptoms, health conditions, and allergies
3

We will send you a notification once a prescription has been written. You are charged only when a prescription is complete.
Testimonials
I had to get my asthma inhaler refilled but didn't realize until the last moment. Seeing my primary care doctor was going to take over a week.
I contacted Qwark for a refill and learned about the telehealth option. I was able to order a refill and it was delivered to me within a day.
Qwark Customer
I had to travel for work on short notice and forgot to refill my Levothyroxine prescription.
Fortunately, I was able to complete a visit through Qwark and had my prescription delivered to my hotel the next day.
Qwark Customer
My allergies kicked in on a Friday afternoon, unfortunately. I couldn't wait until Monday to make an appointment with my doctor.
I started a visit with Qwark Friday evening, and to my surprise, my medication was delivered over the weekend on Saturday. Highly recommend!
Qwark Customer